I've worked as a writer, editor, and teacher for more than 40 years. Much of my work has been about about illness, genetics, and disability; about the Jewish family I grew up in; about design, and more recently, about my transgender child. I have taught nonfiction writing at Sarah Lawrence and in Columbia's Narrative Medicine program; I have also been a fellow at Columbia's Center for the Study of Social Difference. My book Moonrise, about my oldest son, was published in 2003, and was based on an essay that appeared in The Atlantic Monthly and for which I won a National Magazine Award. My work has appeared in anthologies including Best American Essays and in publications including the New York Times, Lilith, The Forward, Print, Good Housekeeping, Motherwell, and Exceptional Parent. The thesis I wrote about wheelchair design was published by the Smithsonian/Cooper Hewitt Museum as an e-book in 2014. I have a bachelor's and master's degree from Sarah Lawrence and a degree in the history of design and decorative objects from New School Parsons/Cooper-Hewitt, Smithsonian, where my thesis was on wheelchair design. I have appeared as a panelist and speaker at numerous events, including multiple readings and academic presentations, and I have been interviewed on WNYC, on The Beagle Has Landed podcast and on the Today show on NBC. I live with my husband of 43 years, Joseph Lurio, a family physician, in Westchester, New York.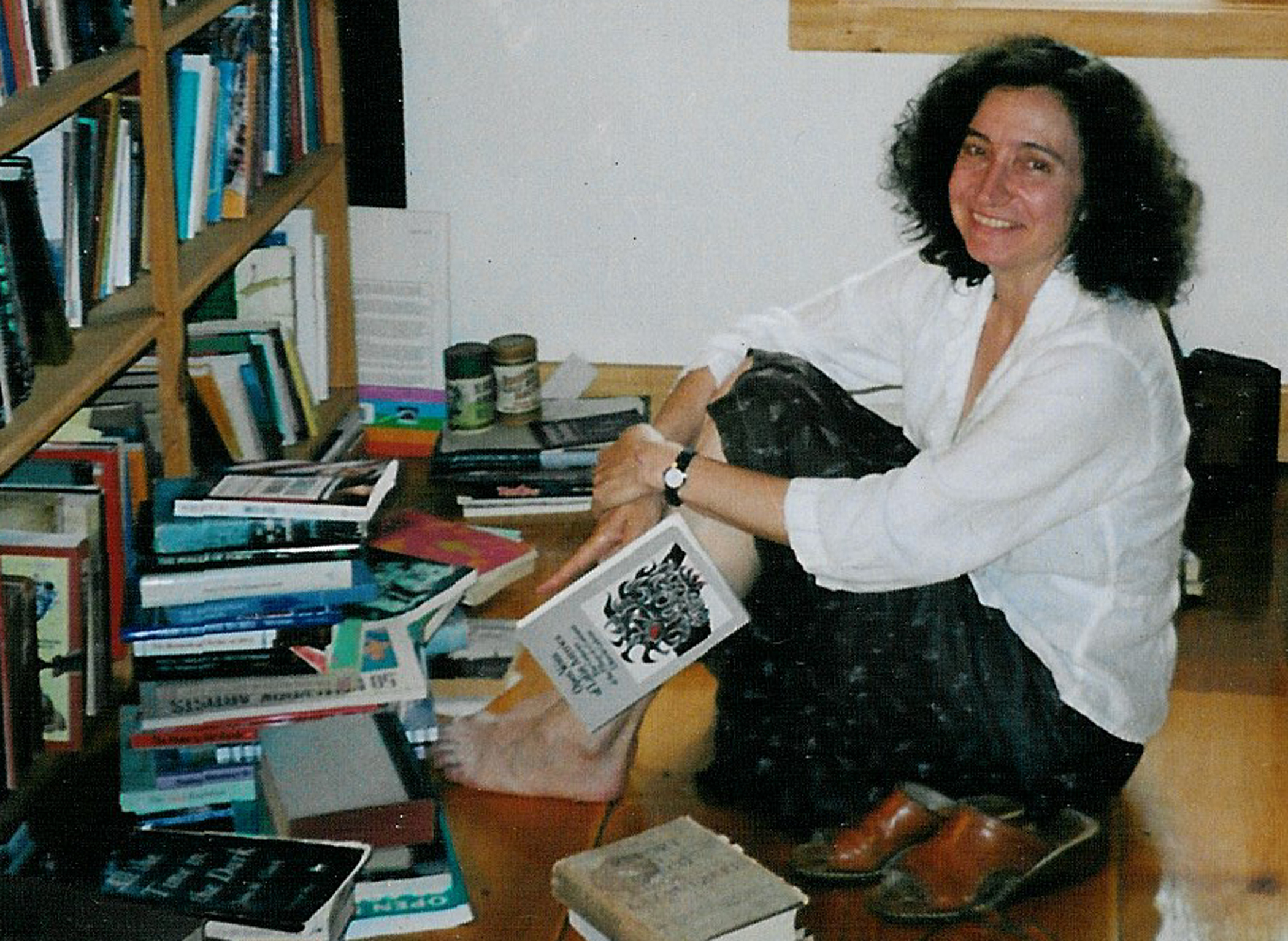 Writing Sample, from Flock 23, Spring 2020
Actualites, or The Pornography of Disability
On Viewing van Gehuchten's Medical Films
"Existe-t-il…une maladie aussi bizarre, dans sa forme exterieure, que l'atrophiemusculaire graisseuses progressive?"
(Does there exist anything as bizarre, in its external form, as progressive muscular dystrophy?)
Dr. Guillaume Duchenne, 1852,Introduction to Photographes pathologiques.
I am lying propped up in bed watching movies on my laptop computer--two silent, 68-second proto-documentaries that the Lumière Brothers might have called "actualités,"
motion studies of boys with Duchenne's muscular dystrophy, dated 1910.I came upon these as videos on the web site of the New England Journal of Medicine,
posted last December. Originally shown in the medical-school classes of the anatomistAlbert van Gehuchten, they are part of what was apparently the doctor's vast and
unique cinematic trove, recently re-discovered and remastered by the Belgian FilmArchives.
I like reading the New England Journal. I am neither a scientist nor a physician, though my husband is, which is why we have a subscription. I love the narratives, like "Case
Records of the Massachusetts General Hospital," in which a patient comes to the emergency room and the reader follows his or her progress while the doctors come up
with the "differential diagnosis" and then critically consider each possibility; though thejournal editors would no doubt hate the comparison, it is not unlike a hospital reality
show, like NY ER, with a "guess the diagnosis" story line—though filled with technicallanguage and graphs and numbers from lab tests I don't understand. Still I love the
puzzle-solving and I love the stories, like the one about the 68-year old who has justtraveled to a tropical country and has contracted a parasitic infection, or the 20 year old
college student who presents with unexplained syncopes, or fainting spells.
But the films I am watching have no narrative. They show simply, starkly, and with no preamble, two naked boys in mid-childhood displaying the features of Duchenne's
muscular dystrophy.I'll describe these tiny films for you as well as I can: In one, a boy, perhaps eight years old, looking deceptively musclebound, walks alone down a long,
institutional corridor paneled on the right side by a bank of sun-filled casement windows; he displays a side-tilting, waddling, toe-walking step. On the left side of the
screen, a disembodied hand, belonging to one of the off-camera doctors, perhaps, seems to signal briefly for the boy to turn around and walk lumberingly back down the
corridor.
In the next frames, the boy is shown from the rear, buttocks towards us, attempting to climb a three-step staircase, which has been placed in the same corridor.
Two goateed men, fully clothed in Edwardian attire--vests and jackets, stand-up collars and four-in-hand ties—are in attendance, one at the left side of the stairs, the other at
the top. The boy succeeds in mounting the first step; the second is not so easily attained, he needs to lean with his hands on the top tier to gain enough momentum; on
the third, the boy pulls one foot up the step and puts his weight into it; but has to muster all his strength. For a fraction of a second his first foot slips back, and it isn't
certain he'll make it. Finally, with the assistance of one of the men, he raises and plantshis other foot on the top step.
In the second film, a skinny and spindly-legged boy, somewhat younger than the first boy, is seen in what looks to be an empty room, circumscribed by a dark, draped, floorto-
ceiling curtain in back and some kind of divider on the right. It resembles a hastilyarranged stage set. The boy, alone, lies on his back. At a signal, he turns over fairly
quickly and then tries to stand up. But it is a very slow standing, one that requires apushing and shifting of weight, beginning with his feet apart and his hands firmly resting
on, then climbing up, his thighs. He moves his legs closer and closer together a little at a
time, wobbling up. Finally, pushing his chest out as he stands, he is erect. Then in reverse, with the same difficult movements, he lies down again.
It happens I know these signs of Duchenne's dystrophy well. I can tell you about the gait, the waddle, the curving, lordotic spine, the false, fatty muscles, the Gowers'
maneuver--the name for that awkward lying-to-standing series of movements—the painfully slow stair climbing--because my son has this form of muscular dystrophy. He's
30, not a child anymore, and because of some luck and mediating interventions, way past the age at which most DMD patients die. But viewing these I am in a millisecond
backwards in time 25 years, bound in the dyad of mother and child-who-is-not-exactly right—when my son Ansel was being tested and examined and prodded and
questioned, asked to perform these same tasks, and then diagnosed with a capital D. I have lived with him, known other boys with DMD, seen photos historic and
contemporary, of many boys with Duchenne's. I have written a book and thought deeply about disabilities and their depiction, about genetics and meaning. I have felt,
occasionally, the electricity, the frisson of recognition in the familiar movements of aboy with DMD who is not my son.
But never quite this way. These short movies--they clobber me. They feel so powerful, in their silent, withholding black-and-whiteness, in the figures of the dressed doctors and
the unclothed boys, in the glacial, real-time pace of the boys' movements as they struggle to complete the ordained tasks that another boy of that age could perform
fluently: walking climbing stairs, rising from the floor. How well I recognize that little staircase, that strangely shortened flight that leads nowhere. It's like a grim fairy tale in
which, as if paralyzed by some terrible spell, the child just cannot climb that last, crucial step. Ten, fifteen, twenty seconds between the second and third step—it feels
excruciating and personal; Hurry! Speed it up! You can do it if you try! Come on!
Somehow the presence of the men in their Edwardian suits and ties makes it worse, as though we are witnessing some kind of kinky, staged pornography. And
indeed, these have the sense of exhibition: the silence, the nudity, the lack of plot, the boys' innocence but also their apparent willingness to please. These long-ago boys seem
so exposed, so defenseless, so alone. And they become, in my viewing, my son's bloodbrothers, his cinematic twins.
And I, mother and viewer and disabled one--as we all are-I am doubly, multiply exposed: I am the naked one.